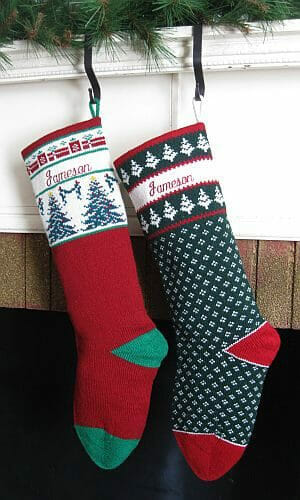 Sometimes mistakes happen
Maybe we made an extra stocking
or misspelled a name or knitted in the wrong color. 
Sometimes a flaw gets repaired and just isn't right to send out.
But maybe our mistakes are perfect for you.
Check the list below
Find just what you wanted?
Just  $33.
Great!  Copy that line from the list below (include all the columns).
Then paste it in the box below
(Example: Allison Snowman Embroidered Cranberry/forest)
Look, You can use the search box to help find the right name!
And choose how many lines to show.
| NAME | DESIGN | PERSONALIZATION | LEG COLOR |
| --- | --- | --- | --- |
| Aaron | Gingerbread man | Knit | Nordic cranberry |
| Adam | Nutcracker | knit | Cranberry |
| Aden | Christmas Tree | Knit | Cranberry |
| Aiden | Sleigh & bells | Embroidered | Kelly |
| Alexia | Angels and hearts | Knit | Cranberry/forest |
| Alison | Angels and hearts | Knit | Cranberry |
| Alison | Snowman | Embroidered | Cranberry/forest |
| Alissa | Sleigh & bells | Embroidered | Cranberry/CT green |
| Allison | Sleigh & bells | Knit | Kelly |
| Alycia | Snowman | Knit | Cranberry |
| Alyson | Angels and hearts | Knit | Cranberry |
| Amber | Nordic Snowflake | Knit | Natural |
| Amelia | Rockinghorse | Knit | Cranbery |
| Amelia Ann | Angels and hearts | Knit | Cranberry |
| Ann | Christmas tree | Knit | Cranberry/forest |
| Anna | Nordic Holly | knit | Natural |
| Anna Mae | Nordic xmas Tree | Knit | Forest green |
| Ana | Rockinghorse | Knit | Cranberry |
| Anderson | Rockinghorse | Knit | Cranberry/forest |
| Andrew | Nutcracker | embroidered-cairo | Kelly/blk name |
| Anke | Nordic Snowflake | Knit | Black |
| Anniston | Angels and hearts | Knit | Cranberry |
| Ashley | Bear and heart | Embroidered | Knit |
| Ashlyn | Nordic Snowflake | knit | Cranberry |
| Aunt Karla | Sleigh & bells | Embroidered | Kelly |
| Bear | 22" dog | knit | kelly |
| Becca | Sleigh and bells | Embroidered | Cranberry |
| Ben | Bear and Train | Knit | Cranbery |
| Bess | Sleigh and bells | Knit | Cranberry |
| Beth | Skier | Knit | Cranberry |
| Betsey | Nordic Poinsetta | Knit | Natural |
| Bobbi | Nordic Holly | Embroidered | Natural |
| Brendon | Bear and Train | Knit | Cranberry/forest |
| Brittany | Bear and heart | Knit | Cranberry/forest |
| Brooke | Bear and heart | Knit | Forest/Cranberry |
| Brooke | Candycane | Knit | Cranberry |
| Bryan | Nordic tree | knit | Natural |
| Bryan | Bear and heart | Knit | Cranberry |
| Brynlee | Sleigh and bells | knit | Cranberry |
| Brynn | Bear and heart | Embroidered | Cranberry |
| Caden | Bear and train | Knit | Kelly |
| Calder | Candycane | Knit | Kelly |
| Camron | Angels and hearts | Knit | Cranbery |
| Carla | Nordic skiis | Knit | Natural |
| Caroline | Angels and hearts | Knit | Forest/cranberry |
| Carlee | Angels and hearts | Embroidered | Cranberry |
| Casey | Nordic snowflake | Knit | Navy |
| Charles | Nordic Tree | Knit | Forest |
| Charlotte | Angels and hearts | Embroidered | Cranberry |
| Charlotte | Snowman | Knit | Cranbery |
| Chelsie | Nutcracker | Embroidered | Kelly |
| Chris | Nordic Tree | Knit | Navy |
| Chris | Sleigh and bells | Knit | Kelly |
| Christopher | Tennis | Embroidered | Cranberry |
| Cleo | Bear and heart | Knit | Kelly |
| Colleen | Bear and heart | Knit | Cranberry |
| Collin | Rockighorse | Knit | Cranberry/forest |
| Corina | Angels and hearts | Embroidered | Kelly |
| Daddy | Skier | Knit | Cranberry |
| Danielle | Candycane | Knit | Cranberry |
| Darren | Christmas tree | Embroidered | Cranberry |
| Dawn | Christmas tree | Embroidered | Cranberry |
| Deb | Nordic Holly | Knit | Cranberry |
| Deborah | Angels and hearts | Embroidered | Cranberry |
| Deborah | Christmas tree | Knit | Cranberry |
| Derby | Snowman | Knit | Cranberry |
| Diane | Rockinghorse | Knit | Cranberry |
| Dillon | Bear and train | Knit | Cranberry/forest |
| Dillon | Nutcracker | Knit | Cranberry |
| Dominicck | stickhorse | embroidered | kelly |
| Doug | Snowman | Green Knit | Cranberry/Kelly |
| Douglas | Sleigh and bells | Knit | Cranberry |
| Duncan | Dog 16? | Embroidered | Cranberry |
| Earnest | Dog 16? | Knit | Cranberry |
| Egan | Nordic Snowflake | Knit | Cranberry |
| Elaine | Christmas Tree | Knit | Cranberry |
| Ella | Nordic Holly | Knit | Cranberry |
| Ellie | Gingerbread man | knit | cranberry |
| Elliot | Nordic Sprig | knit | black |
| Emery | Nordic Holly | Embroidered | Cranbery |
| Finn | Nordic Snowflake | Knit | Forest |
| Finn | 16" dog | knit | Kelly |
| Felix | Christmas Tree | Embroidered | Cranberry |
| Forest | Santa | Knit | Kelly |
| Forrest | Santa | Knit | Kelly |
| Franklin | Candy Canes | Embroidered-cairo | Kelly |
| Fritz | Rockinghorse | Knit | Cranberry |
| Gabe | Gingerbread | Embroidered | Cranberry |
| Gabrielle | Angel and heart | Embroidered | Cranberry |
| Gabrielle | Nordic Holly | Embroidered | Natural |
| Garrett | Bear and train | Knit | Cranberry |
| George | Nutcracker | Knit | Kelly |
| George | Nordic Holly | Knit | Natural/green toe |
| Georgie | Bear and heart | Embroidered | Cranbery |
| Gracie | 16" dog | knit | Cranbery |
| Glenn | Sleigh and bells | Knit | Forest/Cranberry |
| Grandpa | Wreath | Knit | Kelly |
| Greta | Christmas tree | Embroidered | Cranberry |
| Gretchen | Rockinghorse | Knit | Cranberry |
| Hadley | Bear and heart | Knit | Cranberry/forest |
| Haley | Nordic Snowflake | Embroidered | Forest |
| Hayden | Nordic Snowflake | Embroidered | Navy |
| Holden | Nutcracker | Knit | Kelly |
| Hollie | Bear and heart | Knit | Cranberry |
| Holly | Bear and heart | Knit | Cranberry |
| Holly | Nordic Holly | Knit | Cranbery |
| Isaak | Bear and train | Knit | Cranberry |
| Isabel | Stickhorse | Knit | Kelly |
| Isabella | Bear and heart | knit | Cranberry |
| Izaac | Bear and train | Knit | Cranberry |
| Jackson | Santa | knit | Cranberry |
| Jame | Nordic Holly | Knit | Natural |
| jake | 16" dog | Embroidered | Cranberry |
| Jameson | Christmas Tree | Embroidered | Cranberry |
| Jameson | Nordic Tree | Embroidered | Forest |
| Jame | Nordic Holly | Knit | Natural |
| Jamie | Snowman | Knit | Cranberry |
| Jamie | Hockey | Knit | Kelly |
| Jamison | Christmas Tree | Embroidered | Cranberry/forest |
| Janet | Christmas Tree | Knit | Cranberry |
| Jason | Candy cane | Embroidered-Blk | Kelly |
| Jared | Nordic Tree | Knit | Forest |
| Jasper | 16" dog | Knit | Cranberry |
| Jasper | Santa | Knit | Cranberry |
| Jay | Christmas Tree | Embroidered | Cranberry |
| Jeanne | Nordic Poinsetta | Knit | Natural |
| Jen | Angels and hearts | Embroidered - script | Cranberry |
| Jerome | Snowman | Knit | Cranberry |
| Jill | Nordic Poinsettia | Knit | Natural |
| Jimmy | Nordic Tree | Knit | Forest |
| John | Bear and Train | Knit | Cranberry |
| John | Bear and Train | Embroidered-cairo | kelly |
| Joni | Nor. Bear & Heart |  Knit | Cranberry |
| Joshua | Candy Cane | Knit | Kelly |
| Joshua | Mennorah | Knit | Med Blue |
| Joshua | Nordic Sprig | Embroidered | Black |
| Julia | Nordic Holly | Knit | Natural |
| Julie | Nordic Tulip | Knit | Natural |
| Juliette | Angels and heart | Knit | Cranberry |
| Kacey | Wreath | Knit | Kelly |
| Kaitlin | Rockinghorse | Knit | Cranberry |
| Kamryn | Sleigh and bells | Knit | Cranberry |
| Karina | Angels and hearts | Knit | Cranberry |
| Kathryn | Rocking horse | knit | Kelly |
| Katrina | Christmas tree | Knit | Cranberry |
| Kelly | Angels and hearts | Knit | Kelly |
| Kellyn | Rockinghorse | Knit | Cranberry |
| Ken | Christmas tree | Knit | Cranberry |
| Kenney | Nutcracker | Knit | Kelly |
| Kevin | Lacrosse | Knit | Cranberry |
| Kirstin | Bear and heart | Knit | Cranberry |
| Kristen | Nordic Snowflake | Knit | Navy |
| Kristi | Nordic Tree | Knit | Natural |
| Kristy | Sleigh and bells | Embroidered | Cranberry |
| Kurt | Nordic Holly | Embroidered | Black |
| Lainey | Christmas tree | Knit | Cranberry |
| Lance | Bear and train | Knit | Cranberry |
| Lara | Angels and heart | Embroidered | Cranberry |
| Lauren | Snowman | Embroidered | Cranberry |
| Laurie | Santa | Embroidered | Kelly |
| Lawrence | Rockinghorse | Knit | Cranberry |
| Leigh | Nordic Holly | Knit | Natural |
| Leigh | Rockinghorse | Knit | Forest |
| Lesley | Nordic Holly | Embroidered | Cranberry |
| Levi | Bear and Train | Embroidered/blk | Kelly |
| Lexi | Bear and heart | Knit | Cranberry |
| Lexi | Snowman | Knit | Cranberry/forest |
| Lianna | Nordic Holly | Knit | Natural |
| Lillie | Bear and heart | Knit | Cranberry |
| Lily | Gingerbread | Knit | Cranberry |
| Lindsey | Gingerbread | Knit | Cranberry |
| Lindsey | Nordic Snowflake | Knit | Natural |
| Linette | Nordic Tree | Knit | Forest |
| Louis | Nordic Holly | Embroidered | Cranberry |
| Louis | Nordic Tree | Embroidered | Natural |
| Luke | Bear and heart | Knit | Cranberry |
| Lydia | Wreath | Knit | Kelly |
| Lynsey | Angels and heart | Knit | Cranberry |
| Madeline | Bear & Heart | Knit | Cranberry |
| Madelyn | Nordic Holly | Knit | Natural/forest toe |
| Madison | Bear and heart | Knit | Cranberry |
| Madilyn | Bear & Heart | Knit | Cranberry |
| Makenna | Rockinghorse | Knit | Cranberry |
| Marlena | Nordic Snowflake | Knit | Natural/Navy |
| Marlo | Christms Tree | Embroidered | Cranberry |
| Mason | Nutcracker | Knit | Kelly |
| Matthew | Christms Tree | Embroidered | Cranberry |
| Maura | Christms Tree | Knit | Cranberry |
| Maya | Nordic snowflake | knit | Natural |
| McKenzie | Nordic Holly | Knit | Cranberry |
| Megan | gingerbread Man | Knit | kelly |
| Mike | | | |
| Michael | Nutcracker | Knit | Kelly |
| Miguel | Rocking Horse | Knit | Cranberry |
| Mike | Christmas Tree | Knit | Cranberry |
| Millicent | Nordic Poinsetta | Knit | Black |
| Mom | gingerbread Man | Embroidered/cairo | Cranberry |
| Ned | Nordic Poinsetta | Embroidered | Natural |
| Olivia | Snowman | Knit | Kelly |
| Paige | Angels & Hearts | Embroidered | Cranberry/Forest |
| Paula | Bear and Heart | Knit | Cranberry |
| Pearl | black lab argyle | Knit | Cranberry/Black |
| Penny | 22" dog | Cranberry | Knit |
| Phillip | Bear and Train | Knit | Cranbery |
| Phillip | Nordic Tree | Embroidered | Forest |
| Piper | 22" Dog | Knit | Kelly |
| Quentin | Nordic tree | Embroidered | Forest green |
| Ransom | Nordic Tree | Embroidered-cairo | Cranberry |
| Rachel | Nordic Holly | Knit | Natural/forest toe |
| Ralph | Golf | Knit | Kelly |
| Rachel | Nordic Holly | Knit | Natural/forest toe |
| Randy | Bear & Heart | Knit | Cranberry |
| Reid | Nutcracker | Knit | Kelly |
| Rene | Cycling | Knit | Cranberry |
| Rich | Nordic Tree | Knit | Navy/cranberry |
| Rick | Nordic holly | Embroidered | Cranberry |
| Rick Jr | Snowman | Embroidered | Cranberry |
| Ricky | Snowman | knit | Cranberry |
| Robert | Nordic holly | Knit | Natural |
| Robert | Nordic holly | Knit | Natural |
| Rosa | Angel & Heart | Knit | Cranberry |
| Rosie | Nordic Tulip | Knit | Cranberry |
| Rush | Sleigh & train | Knit | Kelly |
| Robin | Gingerbread Man | Embroidered-cairo | Cranberry |
| Russell | 22?  dog | Embroidered | Kelly |
| Ryder | Snowman | Knit | Cranberry |
| Sam | 16" dog | Knit | Cranberry |
| Sara | Angels & heart | Knit | Cranberry |
| Sara | Bear and heart | Embroidered | Cranberry |
| Scott | Nordic Poinsettia | Knit | Cranberry |
| Sean | Gingerbread man | Knit | Forest/Navy |
| Sebastian | Christmas Tree | Knit | Cranberry |
| Shana | Bear and Heart | Knit | Cranberry |
| Shannan | Sleigh & bells | Knit | Cranberry/forest |
| Shay | Sleigh & bells | Embroidered | Kelly |
| Sheryl | Christmas tree | Knit | Cranberry |
| Spencer | Nutcracker | Knit | Cranberry |
| Sophia | Angels & heart | Embroidered | Cranberry |
| Sophia | Nordic tulip | Embroidered | Cranberry |
| Stacie | Angels & Hearts | Knit | Cranberry |
| Stella | Santa and reindeer | knit | cramberry |
| Steven | Nordic Holly | Embroidered | Cranberry |
| Steven | Skiing | Embroidered | Cranberry |
| Tad | Nutcracker | Knit | Cranberry/forest |
| Taylor | Golf | Embroidered | Kelly |
| Terri | Angels & Heart | Knit | Cranberry |
| Thomas | Bear and Train | Knit | Cranberry |
| Thomas | Nordic Tree | Embroidered | Navy |
| TJ | Bear & heart | Knit | Cranberry |
| TR | Snowman | Embroidered | Cranberry |
| Tracie | Nutcracker | Knit | Kelly |
| Truman | Stickhorse | Knit | Cranberry |
| Vea | Nordic Poinsettia | Knit | Natural |
| Veronica | Snowman | Embroidered | Cranberry |
| Willa | Nordic Sprig | Knit | Natural |
| | | | |
| Zack | Rockinghorse | Knit | Kelly |
| Zoey | Nordic Poinsettia | Embroidered | Cranberry |
| | | | |
| | | | |
| | | | |
| | | | |
| | | | |