Vermont-made knit wool Christmas stockings and ornaments made for you.
Christmas has a certain dependability for kids. Of course there are surprises. But whether presents are opened Christmas morning or Christmas eve, a kid wants to know which presents are his or hers.
A Specialties in Wool personalized Christmas stocking makes that clear!
Christmas stockings shouldn't be flimsy affairs that get swapped out every year for what ever is the fad of the year.
That's not dependable.
Specialties in Wool is dependable:
We've been knitting Christmas stockings in homes in Vermont since 1980. That's not factory-made and that is 42 years!
We've been on the internet since 1994, way before eBay and Etsy.

Each Specialties in Wool stocking is knit at home, in the midst of our family, for you and your family with hopes that it will help fill your holidays with joy for many years of Christmas memories.
But there are changes. Marge retired after 42 years!
New owners Suzann Audette and Jordan Madden promise the same quality.
If you call the Specialties in Wool phone number, you'll get Suzann!
Our new location is a bit south of the old one, in Central VT.
About new owners
We are a close-knit family of five. (Pun intended!)
We have three boys.
Suzann Audette, the mother, is the chief knitter, stitcher, and queen of all things. When she's not knitting and stitching you can find her at the dairy farm or the horse barn.
Jordan Madden is the dad. His role is to manage the orders and ship packages. When he's not working in his carpentry business, he's with his boys at sporting events or fishing with them on a nearby riverbank.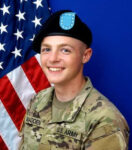 Alex is the oldest at 19. He proudly serves in the United States Army.
Josh, the middle son, is 16 and getting prepared for a life in Business Management.
Jacolby, the youngest, is 10. He enjoys baseball, soccer and loves to ski.
We are looking forward to making the Traditional style stockings this year — especially the new best seller "Christmas Trees" (even with some glitter and glitz!)
However, the Nordic styles will not be available until next year. Watch for them in 2023.