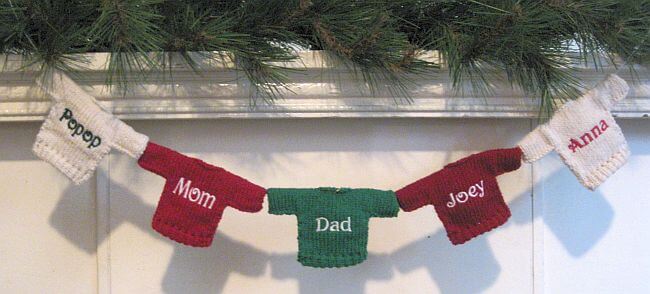 Use a sweater ornament on the tree or
a personalized keepsake gift tag or
on a Christmas or wedding present
Or, how about, for seating assignment at dinner?
$20.00- $22.00
3″ Sweaters have snowflake pattern or heart on one side and up to three lines of embroidered text embroidered on the other side.  Each ornament comes with a stretchy gold loop for hanging.
They are about 5″ wide at the sleeves.
Or maybe you'd prefer it just say Merry Christmas (or something else) or a date, a year, a birth date, a wedding date.
Remember our stocking ornaments? We do!
First, choose the ornament color: (required)
If you clicked "Add to Cart" and nothing happened, you probably forgot to click something.
Please review your choices above.