It's our 40th year of making
wonderful Christmas stockings.
Here's what some happy customers are saying.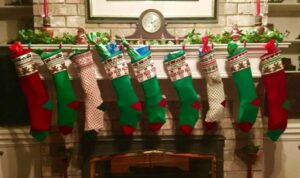 My mom purchased our first Specialties in Wool Stocking when my daughter was born in 1986, thirty-five years ago.   She added 2 more as I had another daughter in 1987 and a son in 1990.  Since then we have added stockings for the 3 spouses, and more recently I have gotten to order stockings for my grandsons.   This year we will be adding 2 more to my 4 previous grandson stockings.  Total stocking count this Christmas will be 12 awesome stockings.  They are such wonderful stockings and I stuff them full every Christmas and they go right back to the perfect shape even the 35-year-old one.  I can't thank you enough for the beautiful workmanship the wonderful Christmas tradition and  the timeless keepsake.
Kim
So first and foremost your stockings are the best! My parents bought mine when I was just a baby. I'm now 23 and still use the same stocking and would love to keep the tradition going of buying these stockings for my family one day!! … Your stockings are AWESOME!
Kayla 🙂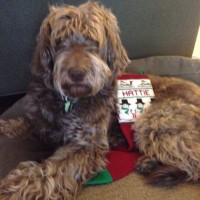 Hattie says, 'If only mom would get my hair trimmed, I could see this a
little bit better. But, I'm sure it's something exciting.'
Megan
They look the same today as they did 20 years ago when we purchased them!! and… now it is time to start with the next generation:)
1st grand baby:)
Lisa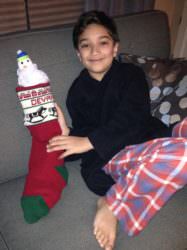 We can fit almost TOO much stuff in these- and they go right back to their perfect shape the next day. Beautiful, and a treasured tradition.
Megan
I am just thrilled to have found you on the internet! I bought your stockings for our 3 children about 25 years ago from a small shop in Summit NJ. We still have them and use them every year! I just ordered a new one as an engagement gift for our prospective Son-in-Law! And I'll be ordering again for our Daughter-in-Law! Maybe some day, I'll even complete the family by getting one for my Husband and me!
Sally
Finding your website and being able to order more of your amazing stockings was one of the best finds for this Christmas. Thirty years ago I purchased stockings for our family of three children, my husband and myself. We have expanded to daughters and sons in laws and a puppy; it was wonderful to have these stockings for our whole expanded family.
They are wonderful!
Pat W
Bought 3 of these stockings, Teddy Bear, Snowman and Rocking Horse, for my daughters 23 years ago. Found them in a small store in Chester, NJ. At the time it was a big splurge. Now bought 3 more of the exact patterns, opposite colors, for one daughters husband and any more husbands to be. So happy that they are still being made. Still love them after all these years.
Karen S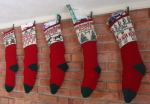 Here is a picture. I actually have ordered 5 ! (One was for an exchange student we had) this new one is for a boyfriend!
Alanna
Yay! Our beautiful new stockings arrived today, so now we give them to our new son in law and daughter in law!
Our family is so grateful for your beautiful handiwork and personal service. We will enjoy these for years to come. Thanks again,
Leigh
We bought or ordered our original stockings from you at a craft fair (I think) in Burlington approx. 28 years ago — is that possible?? We got them when our son was little and he's now 29. Anyway, we love them and they are a part of our family's tradition. Need another one as we're adding to the family!
Patty A
Thank you so very much for all of your efforts to match our new "Jordan" stocking with our older previous stockings. It matches great and adds to our festivities this year.I appreciate all of your help and great service.
Thank you for your great service and beautiful workmanship.
Merry Christmas to all…
Lynne F.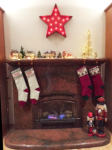 So glad I found you!
I have had these stockings for 20 years and they look as good as they did when I bought them. No discoloring or stretched out from overfilling, and they have been very overfilled through the years. I just love them!
Thank you so much and I look forward to ordering many more in the future!
Jo Ann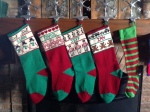 Thank you for taking the time to email me with alternatives to my order. I want you to see the attached photo. I believe I have had these stockings for twenty years or so.
Kim is engaged to my son Jeff and will become my daughter-in-law next August. Given that she will be in our family for many years to come, I can wait until February to get a stocking that matches the others in how it is personalized.
I fully understood that I would not receive the stocking this year. My plan now is to put a copy of your email into the wimpy striped stocking on the right. The image of you all frantically knitting to fulfill orders and the need for recovery month of January made me smile.
Please stay in business forever. I have a second son who doesn't have a significant other just yet and one can always hope for grandchildren who will need their own stocking. They are unique, exquisitely made and true keepsakes.
Carol